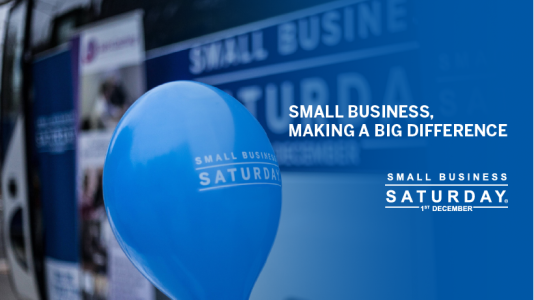 The annual Small Business Saturday campaign takes place on December 1st this year. It is a celebration of small businesses, a way to promote the benefits of keeping custom and supply chains local, and a way to highlight and provide support for small businesses.
List your business for free on the Small Business Saturday website
We know that many businesses are shut on Saturday and therefore sometimes don't see how Small Business Saturday relates to them. But there are ways for all small businesses to promote themselves on the Small Business Saturday website, including by registering on the Small Business Finder tool that allows anyone to search for a particular type of business in their town or city.
Whether you are a marketing agency, web design company, law firm, cleaning company, Virtual PA, accountants, or anything else – and even if your opening hours are Monday-Friday, 9am-5pm - you can still promote your business on the Small Business Saturday website for free.
All you need to do is register with Small Business Saturday for free and you will be promoted on the Small Business Finder.
Show your support for the small business community
Small Business Saturday is also about what you can do to show support for other small businesses.
This support could either be in your capacity as a personal customer or as a business owner/manager. Do you shop local? Do you try to keep your supply chain local? Do you see the benefit of supporting local businesses in this way?
The Buckinghamshire business community is a supportive one, as seen by the raft of discounts and special offers local businesses have made for each other on the Buckinghamshire Business First website (any business can take these offers up, and invested members can create them).
Promote your contract opportunities to local businesses
All Buckinghamshire Business First members can advertise and bid for contracts on our website. You can check out the available contracts right now, or get in touch with us to learn more about posting your own contracts or member offers. Email info@bbf.uk.com or call 01494 927130.
Small Business Saturday build-up – themed weeks
The government is promoting themed weeks in the build-up to Small Business Saturday, covering areas that can apply to all small businesses. The themed weeks are:
Business environment - w/c November 5th
This is something that Buckinghamshire Business First knows a lot about, having been "highly commended" in the 'Improving the Business Environment' category at the 2016 Enterprising Britain Awards, run by Investment in Young People on behalf of the Department for Business, Energy and Industrial Strategy (BEIS).
Remember that you can search for available contracts worth over £10,000 with the government and its agencies on the online Contracts Finder portal.
Skills and employment - w/c November 12th
Small businesses can see huge gains from investing in their employees and in taking a diverse approach to employment, whether it is up-skilling current employees or taking on apprentices.
We have plenty of successful apprenticeship stories to tell here in Buckinghamshire, and Buckinghamshire Business First also run the successful Talent Tuesday events that bring together would-be apprentices and businesses on the lookout for fresh talent.
Check out the below apprenticeship case studies with Buckinghamshire Business First members:
Businesses that want to up-skill their employees can do so in Buckinghamshire with the help of a £150 training voucher as part of the Buckinghamshire Skills Brokerage.
Read how Eat at The Works boosted the confidence of one member of their leadership team to help him with delivering presentations.
Exporting - w/c November 19th
The government's Exporting is GREAT campaign is a great resource for businesses at any stage of their exporting journey, no matter if they have exported in the past or are brand new to it.
Check out all the information and resources here, follow the Department for International Trade on Twitter at @tradegovuk and use the hashtag #ExportingisGREAT, and follow Exporting Is GREAT on Facebook here.
Shop local – w/c November 26th
One of the key messages from both the government and Small Business Saturday with regards to the day is that shopping local is good for local communities.
As well as registering your business on the Small Business Finder, why not use it to search for a business near you and keep your custom local?
Get involved on social media
Follow Small Business Saturday on Twitter and Facebook.
Contact us for any support enquiries
If you have any business support enquiries at all, whether it's to do with exporting, skills training, or posting your own offers or contracts on our website, email us at BusinessSupport@bbf.uk.com or call 01494 927130.