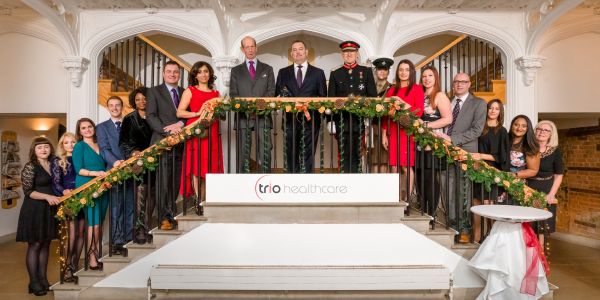 Featuring Monsta Pizza, Stoke Park, CoCredo, Kiddylicious, Lennons Solicitors, Moorcrofts, Lindengate, Pinewood, GIG, Bucks New Uni & more!
Small local business faces legal fight over its name
Local business Monsta Pizza is facing a legal fight from Monster Energy over its name. Read more about their battle & see if you can contribute to their crowdfunding efforts to fund their legal fees, or simply spread the word about it. Read their story here: https://www.crowdjustice.com/case/save-the-monsta/
Stoke Park wins at World Golf Awards
Stoke Park was recently named World's Best Golf Clubhouse at the World Golf Awards. Created in 1908 by eminent golf architect Harry Colt, the Stoke Park course has been the inspiration for many of the world's most famous holes, including ones at Augusta National, home of the U.S. Masters. The course was also featured in the James Bond film 'Goldfinger'.
A year to remember for local businessman
Dan Hancocks, Managing Director at business credit reporting firm CoCredo, has had quite the year, as he has received not one but two prestigious business awards. The first was 'Business Leader of the Year' at the Buckinghamshire Business Awards and the second was 'Technology Innovator Person of the Year' at the Credit & Collections Technology Awards.
Speaking of his award success Dan commented: "This year has been a bit of a whirlwind for me. To win the first award at the Buckinghamshire Business Awards as Business Leader of the Year was such an honour, these are fantastic awards and the team were on a high for weeks.
"A few months after that we found out that we were shortlisted for yet more awards at the Credit & Collections Technology Awards. To scoop the Technology Innovator Person of the Year was amazing and I was very flattered. I can't take all the credit for these awards, the team at CoCredo are like one big family. We all work so well together and are dedicated to making the business a success."
Kiddylicious wins prestigious Amazon Growing Business Award
An Amersham-based company that produces healthy snacks for children has been named the ECI Partners Consumer Business of the Year at the annual Amazon Growing Business Awards. Kiddylicious was crowned the winner of their category at a showpiece ceremony in London, after competing against companies from across the UK for the top prize.
Sally Preston from Kiddylicious said: "I'm over the moon that Kiddylicious has been named the ECI Partners Consumer Business of the Year at the Amazon Growing Business Awards. People are at the centre of everything we do, and we put our customers' needs first with every new product and initiative we work on. To be commended for our focus and dedication by an industry leader like Amazon is a fantastic honour.
"Kiddylicious has enjoyed a brilliant couple of years, expanding into Europe, Asia and Africa and we are excited to build on those successes and offer healthier choices for children all over the world. Being involved in the Amazon Growing Business Awards has been a great experience and we would highly recommend it to other ambitious SMEs in the UK."
HRH The Duke of Kent presents local business with Queen's Award
HRH The Duke of Kent visited Buckinghamshire on December 4th to present Great Missenden-based Trio Healthcare with the prestigious Queen's Award for Innovation for their unique product, a Trio Responsive Silicone, which surrounds an abdominal stoma comfortably and securely, vastly improving the lives of ostomates.
The Duke of Kent, presented the Queen's Award in the Innovation Category to Managing Director of Trio Healthcare, Lloyd Pearce. His Royal Highness discussed Trio's pioneering technology with the Trio Healthcare team and spoke with ostomates whose lives have been transformed thanks to Trio's revolutionary work.
The Duke of Kent said: "I am delighted to be in Buckinghamshire to present Trio Healthcare with the Queen's Award for Innovation. Their dedication to healthcare innovation is improving the lives of ostomates everywhere – they are very worthy winners."
Trio Healthcare is based at Missenden Abbey, owned by Buckinghamshire New University.
The Legal 500 brings double joy for Buckinghamshire firms
The Legal 500 is a prominent and highly regarded directory which ranks and commends individual solicitors and firms each year. All rankings and commendations are based solely on merit and are the result of exhaustive research and interviews by the Legal 500 of the individuals and firms themselves and their clients.
Lennons Solicitors named in the Legal 500
Lennons Solicitors were named in the 2018 directory, with specific comment on the calibre of their personal injury claimant work for which Lennons have been commended as a Tier 3 firm in the South East.
Andrew King, Lennons Solicitors Owner, commented: "I'm absolutely thrilled that we've been recognised by the Legal 500 for our personal injury work. We strive to achieve superb results for our clients and aim to be so much more than just their legal advisors. I am so proud of all in the team who have contributed to this."
Legal 500 ranking success for Moorcrofts LLP
Moorcrofts is also celebrating after being included in the Legal 500. Moorcrofts feature prominently in the South-East category for Corporate and Commercial, Employment, IT and IP Law.
Moorcrofts' CEO and Head of Tech, Andrew Katz, who is recommended for 'his wealth of knowledge and expertise in open source legal matters said: "The Legal 500 directory is an independent guide to the best performing law firms in the UK. The positive recommendations we've received this year are first-class and reinforce our team's expertise and the pride we take in providing excellent service to our clients."
Design Jessica named one of UK's top 'Small Biz 100' by Small Business Saturday
Medmenham-based Design Jessica has been named as one of the UK's top small businesses by Small Business Saturday. Jess Sands designs professional and bespoke visual company branding, product design and marketing for all businesses, and was selected as a trail-blazer in the official count-down to Small Business Saturday, which took place on December 1st.
Exseed named as one of Small Business Saturday's top 100
Exseed, which helps young people to grow beyond expectations by providing leadership development workshops and personal development programmes, was named in the Small Biz 100 as part of the Small Business Saturday celebration.
Lindengate wins at the 3 Counties Radio Awards
Lindengate won gold in the Environment category of the BBC 3 Counties Radio People's Award 2018. The team reacted to the win by saying: "Well done to all the hard working and well-deserving Lindengate team and volunteers who develop, design and maintain our beautiful 5-acre gardens - and we mustn't forget our Gardeners (service users) who are involved in our conservation projects."
Local firms honoured at South East Rural Business Awards
E.J Churchill Shooting Ground won the Best Rural Recreational or Outdoor Pursuits Business at the South East regional heats of the UK-wide Rural Business Awards. At the same ceremony, Odds Farm Park was named runner-up for Best Rural Tourism Business; and Peterley Manor Farm was named runner-up for Outstanding Rural Diversification Project.
E.J Churchill Shooting Ground now move on to the national Rural Business Award finals in 2019.
Pinpoint Marketing gets a Twitter Boost from Theo Paphitis
Nicole Martin, owner of Pinpoint Marketing, tweeted Theo Paphitis about her business during the entrepreneur's Small Business Sunday competition. Pinpoint Marketing was one of the weekly winners to gain a retweet from Theo to his 500,000 Twitter followers. As a result of Theo's retweet, Pinpoint's Twitter account has almost 100 more followers. Pinpoint Marketing is also profiled on the Small Business Sunday website that is exclusive to the winners.
Nicole said: "I am so excited and proud to be one of the winners. We have been in business for 10 years now. It is great to have support from Theo because it can be hard to raise our profile and Theo has recognised our hard work and helped spread the word about what we do to his following."
Anyone looking for a re‐tweet from Theo should tweet him about their business on a Sunday between 5pm and 7.30pm and include the hashtag #SBS. Six lucky businesses are re‐tweeted every Monday at 8pm and then invited to enter their profile on the website and attend the annual Small Business Sunday networking event.
Pinewood breaks ground on expansion project
The second phase of Pinewood's £200 million expansion project is underway. The work includes the construction of four sound stages, workshops, offices and ancillary facilities, including a backlot for the construction of external film sets.
The company also recently submitted a planning application to modernise and substantially increase the size of Shepperton Studios. If approved, the development would involve a private sector investment of approximately £500 million.
GIG appointed exclusive caterer for UK Pavilion at Expo 2020 Dubai
Following a highly competitive tender process, specialist event and hospitality caterer GIG, part of the Global Infusion Group, has been awarded the Hospitality Services contract for the UK Pavilion at Expo 2020 Dubai.
The Pavilion will be the centrepiece of the UK's presence at the Expo 2020 Dubai - highlighting leading British expertise in artificial intelligence and the space sector. The Department for International Trade will lead the UK government's presence at World Expo. Many millions of people are anticipated to visit the Pavilion in the six months from October 2020 to April 2021.
Recognition for local business Thumbsie
Jo Bates, founder of Thumbsie, recently made the finals of the Best Retail/Consumer Product at the Best Business Women Awards. Thumbsie design and manufacture fabric thumb and finger guards.
Talented Bucks New University graduates revel in roles at leading agency
A trio of Buckinghamshire New University graduates have gained jobs with agency PHD Media Worldwide after building contacts with the organisation in presentations as part of their degree. Paris-Blu Kidd, Emma Brady and Andrew Thomson all studied BA (Hons) Advertising Management and Digital Communications and are now working for the global communications planning and media buying network after working with it during a live brief.
Emma, a Digital Display Executive, said: "The course I did at Bucks couldn't be more perfect for starting in the industry. The amount that Bucks offers allows you to get the best possible start, especially with the live brief aspects of the Advertising and Digital Communications course. The course at Bucks is able to put you in the best possible position for starting in an agency or any type of marketing job because you are already up to speed with what is happening!"
Buckinghamshire New University graduate wins marketing institute membership
A Buckinghamshire New University graduate has won a year's membership with the Chartered Institute of Marketing (CIM) as part of an award for the best dissertation on his degree. Stephen Heath gained a first-class in BA (Hons) Marketing at the University's Buckinghamshire Business School and was presented with his award by Francesca Monaco, vice-chair of the South East Board of the CIM.
Discussing why he chose to study at Bucks New University, Stephen added: "I chose to study at Bucks New University thanks to the course's industry links and close proximity to London, which meant I was able to link up with alumni and agencies."
Good growth puts Bucks Thames Valley LEP at the top
Buckinghamshire Thames Valley Local Enterprise Partnership (BTVLEP) is delighted by the news that the Good Growth for Cities 2018 index has placed BTVLEP as the second highest performing LEP in England, having "experienced the second largest increase in its score and emerged second in the overall LEP index", according to the report.
Richard Harrington, Chief Executive of Buckinghamshire Thames Valley Local Enterprise Partnership, said: "We are delighted to see Buckinghamshire Thames Valley LEP as a top area for the most improved and its overall ranking for good growth. Being located at the heart of the Oxford, Milton Keynes, Cambridge growth corridor we recognise that the strength in this region comes from collaboration across city, town and rural areas."
The annual Good Growth for Cities 2018 index sets out to show that there's more to life, work and general well-being than just measuring GDP. The index measures the performance of 42 of the UK's largest cities, England's Local Enterprise Partnerships (LEPs) and the nine Combined Authorities against ten indicators based on the views of the public as to what is key to economic success and wellbeing. These indicators include employment, health, income and skills.
ANT Telecom showcased at Lone Worker Expo
ANT Telecom was a supporter of and exhibitor at the 2018 Lone Worker Safety Expo Conference and Exhibition in London in October. The Expo is the only event of its kind solely committed to the safety, security and wellbeing of lone workers.
Design Difference supporting local business community
Learn how creative agency Design Difference are helping Buckinghamshire businesses work in style, by helping with the creation of the new Buckinghamshire Business First Business Hub in High Wycombe. Read their story here.
Send us your news!
Email news@bbf.uk.com with any news you have and we will let you know if we can feature it in a future newsletter.