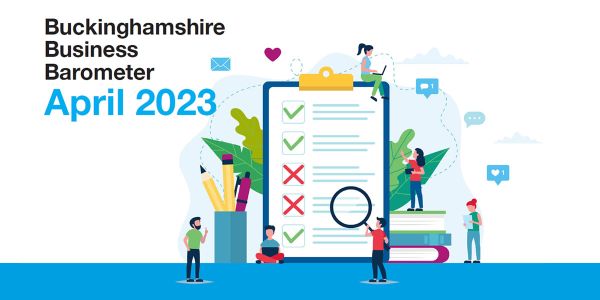 The Buckinghamshire Business Barometer tracks local business confidence and performance and gauges views on topical issues.
Introduction
As with each Business Barometer survey, our aim is to know how businesses have fared in the last few months to help build a picture of the needs and opportunities that exist in the Buckinghamshire business community.
In the latest survey, we also asked the Buckinghamshire business community to share their views on how the announcements in the Spring Budget on 15th March 2023 will impact their business.
This valuable insight into the local economy is fed into our conversations with Government and other stakeholders to ensure the voice of Buckinghamshire firms is being heard nationally.
Reaction to the Spring Budget
You can read the results of the latest Buckinghamshire Business Barometer here >
In the survey, businesses were asked: 'Following the announcements from the Spring Budget, how confident do you feel about your business for the year ahead?' Responses were as follows:
A lot more confident: 5%
Slightly more confident: 24%
Slightly less confident: 32%
A lot less confident: 10%
Not sure: 30%
(Figures have been rounded, so may not add up to 100%)
Of those businesses who were a 'lot more' or 'slightly more' confident about the year ahead following the Spring Budget, key reasons given were:
Evidence that the economy has stabilised and there is reduced likelihood of recession.
Business operating in markets that are doing well and have not been affected by the 'cost of living' crisis.
Of those businesses who were a 'lot less' or 'slightly less' confident about the year ahead following the Spring Budget, key reasons given were:
The rise in corporation tax.
Little announced to help mitigate rising costs.
Little announced to help raise consumer confidence.
Business provides services that tend to be cut when margins are tight (e.g. training, coaching, marketing, advertising.)
Lack of support for SMEs.
Key challenges overall
When asked to describe the challenges they foresee over the coming year, respondents to the survey gave three main answers:
staff recruitment and retention (by far the most common theme)
consumer confidence / disposable income
high costs (energy, labour, materials)
Read the Business Barometer Survey results
Download the Business Barometer Survey results and analysis here >
Previous Business Barometer results
Read previous survey results below:
Want to learn more about the Business Barometer?
For further information about the Buckinghamshire Business Barometer, contact:
Every quarter, the survey findings are shared directly with the Department for Business, Energy and Industrial Strategy (BEIS) to help inform central government policy decisions.
The survey is run by Buckinghamshire Business First and Buckinghamshire Local Enterprise Partnership.