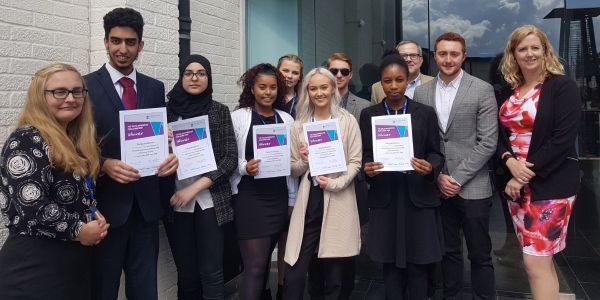 Students from eight schools gained essential sales experience on a fun and educational day organised by the Buckinghamshire Skills Hub.
Eight local schools across Buckinghamshire have gone head-to-head in the county's second Sales Apprentice Challenge, organised by Buckinghamshire Thames Valley Local Enterprise Partnership's Skills Hub to help students gain essential sales experience in a fun and practical way.
Building from last year's initial pilot, eight schools were teamed up with entrepreneurial local businesses to compete against each other for the CV-enhancing challenge. The schools were Highcrest Academy, John Colet School, Buckinghamshire College Group (Amersham campus), The Misbourne School, Buckinghamshire College Group (Aylesbury campus), The Buckingham School, Sir William Ramsay School and Buckinghamshire University Technical College.
Local businesses supporting young people
Serious Brands, Webmart, ANT Telecom, Shirley Parsons Associates, Zenopa, The Garnett Foundation, Thomas International and Lucy Electric joined forces to deliver the exciting opportunity for year 12s, helping to develop the core sales skills that everyone needs professionally and in life, and helping them gain valuable real experience.
Marina Jackson, Under 19 Skills Manager at Buckinghamshire Skills Hub, said: "The challenge gave students the opportunity to discover traits common to all sales professionals, exploring and developing confidence, knowledge, presentation, communication, research, resilience and persistence."
Teams of year 12s competed in schools in the first round. The winning team from each school then spent a day with their employer mentor in the workplace, training for the final which took place on 25th April at Pinewood Studios.
The final was judged by Ailie Smith, CEO of Creative Media Skills, Athol Hendry of the Careers and Enterprise Company, and Marina Jackson, the Under 19 Skills Manager at the Buckinghamshire Skills Hub. Competition was tight, but Sir William Ramsay School, mentored by Thomas International, were the overall winners.
Ailie Smith said: "It was so rewarding to be involved in this inspiring event for local young people. As a business owner, I feel it is crucial to take responsibility for guiding the next generation, using opportunities such as this event to ensure a capable and confident future workforce."
Athol Hendry, Director Marketing & Communications, Careers and Enterprise Company, said: "The quality of the entries in this year's competition was particularly high and the judges really enjoyed the great presentations from all the school teams taking part. The Sales Apprentice Challenge is a brilliant opportunity for young people to begin to develop skills that will be of real benefit to them in the future world of work."
The winning team received the prize of an exclusive talk at their school from Paralympic gold medallist and Guinness World Record holder Naomi Riches MBE, sponsored by Thomas International. Naomi will be sharing her inspiring story of resilience and overcoming adversity in a 30 minute talk to Sir William Ramsay Schools' Sixth Form.
Reuben Conibear, Marketing Executive, Thomas International, said: "Thomas International are passionate about empowering young people to achieve their true potential. We are so pleased to be supporting the Sales Apprentice Challenge as it gives us the opportunity to impart real life skills and experience that the students will use in the future, but do not necessarily get the chance to learn until they're in the workplace. We look forward to our continued partnership with Buckinghamshire Skills Hub, bringing these important programmes to life."
Robert Evans, Highcrest Academy, said: "This challenge provides a rich learning opportunity for our students and helps them develop essential skills which will help them succeed in the world of work.
"I know that this sort of experience provides essential skills including team working, problem solving, resilience and written and oral communication. I know employers and higher education providers value these highly."
Get involved in next year's Sales Apprentice Challenge
If you're a business or school in Buckinghamshire and would like to get involved in next year's 'Big Bucks' Sales Apprentice Challenge, contact Marina Jackson at Buckinghamshire Skills Hub via email at Marina.Jackson@btvlep.co.uk or on 07766 654335.