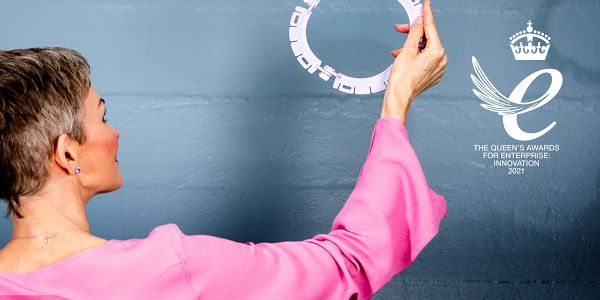 Three Buckinghamshire businesses won a 2021 Queen's Award last week! Businesses of all sizes can enter and win a Queen's Award. Entries for 2022 are open, so come and get first-hand advice on how to win one next year at our May 20th event.
The Queen's Awards for Enterprise are as prestigious a business honour as you can get, a royal seal of approval and global recognition that your business is outstanding in its field. Past winners have cited increased growth, sales, exports and staff morale as a result of winning.
The Queen's Awards are for all businesses – no matter the size or sector, you can enter and you can win.
There are four categories:
innovation
international trade
sustainable development
promoting opportunity through social mobility
2021 Queen's Awards winners announced
Buckinghamshire has a fine history with the Queen's Awards, and this year is no exception.
We send a big congratulations to:
JUNE Medical (High Wycombe) – Queen's Award for Innovation
Martin Audio LTD (High Wycombe) - Queen's Award for Innovation
Melford Technologies (Amersham) - Queen's Award for International Trade
Want to win in 2022? Get first-hand advice from previous winners!
Entries for the 2022 Queen's Awards are open, and we are hosting a special Entry Workshop for businesses wanting the inside track on how to submit a successful entry.
At this free Entry Workshop and Networking event:
Get advice on how to submit an entry
Hear from previous winners on the benefits of winning
Network with other businesses
Some of the many Buckinghamshire businesses that have previously won a Queen's Award will be at the event to explain the benefits of winning and to provide some tips and tricks, do's and don'ts, when submitting your entry.
The event is hosted by the Countess Elizabeth Howe, Lord Lieutenant for Buckinghamshire, and organised by Buckinghamshire Business First and MK Business Leaders Partnership.
Event details:
Date: Thursday 20th May 2021
Time: 4pm – 6pm
Location: Online
Cost: Free