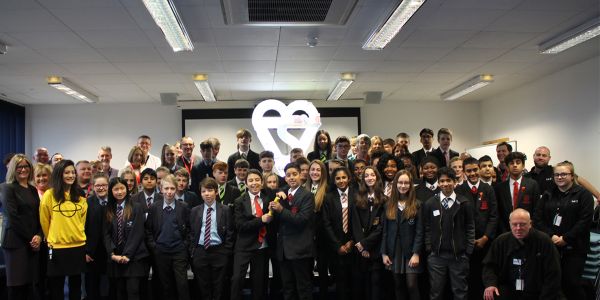 Make 2018 the year you offer work experience or careers advice in schools and play your part in developing local skills.
Businesses have a huge stake in the skill level and ambitions of young people in their local area, and have a role to play in helping to build a local talent pipeline that ensures businesses in the area are competitive with the rest of the country.
In Buckinghamshire there are organisations working every day to improve the skill set of local young people, and to bring them into contact with businesses who have knowledge to share and career opportunities to offer.
How can your business help?
Have you considered:
using your experience to offer inspirational careers talks in schools
offering work experience placements
opening up your business to workplace visits from students to give them a feel for a business environment
Rather than just advertising apprenticeship/job opportunities as and when they arise, it is important that businesses engage with educators, young people and the local community in a meaningful way, so that when they then want to advertise opportunities, they are not overlooked or ignored.
What support is there for your business?
The Bucks Skills Hub, who work in partnership with Buckinghamshire Business First, creates links between employers and educators in order to enable young people to become more work ready.
An online hub, www.OppsinBucks.org, connects employers and educators in the same way that other sites connect buyers and sellers, or service providers and service users. Employers are able to register their willingness to get involved and state what they have to offer in terms of resources, visits, mentoring etc, and educators can either use this information or post specific requests for support.
Meanwhile, WANNABE Bucks aims to connect local businesses and young people through work experience and apprenticeship opportunities, as well as full and part-time employment.
Examples of success in Buckinghamshire
Silverson Machines sets challenge for year 10 students
Silverson Machines is a world leader in the design and manufacture of industrial mixers. Typical of engineering businesses, Silverson has an ageing workforce with a number of employees retiring every year at the same time. However, they struggle to recruit young apprentices. As a result, Silverson are passionate about investing in tomorrow's engineers and worked alongside the Bucks Skills Hub to set an exciting skills focussed engineering challenge for enthusiastic year 10 students.
For the challenge, selected students worked alongside full-time Silverson apprentices for five days to build a Da Vinci Catapult. The opportunity was posted on OppsinBucks and facilitated by the Skills Hub team.
Students get a taste of the workplace
Sixty Year 9 students from schools around the county went behind the scenes at the British Standards Institution's Kitemark House in Hemel Hempstead.
BSI, in partnership with the Bucks Skills Hub, invited the 13 and 14 year olds on the workplace visit to give them a taste of the science behind its product testing laboratory and inspire them about different careers paths.
St Michael's Catholic School, Chiltern Hills Academy, The Misbourne, Sir Henry Floyd Grammar School and Highcrest Academy had all selected students with a particular interest in science, technology, engineering or maths (STEM) subjects to benefit from the day.
Having listened to careers talks from people ranging from senior executives to new apprentices, who each outlined their career path and explained routes into their industry, the students then went on a tour of the different product testing areas.
Get in touch with the Bucks Skills Hub
Make 2018 the year you get involved, or increase your involvement, in helping young people with their skills development and future careers.
Contact Marina Jackson for more information: Marina.Jackson@btvlep.co.uk / 07766 654335.