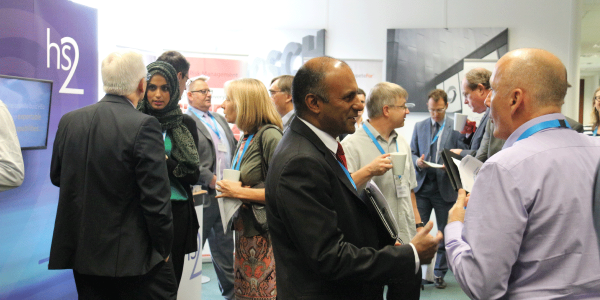 Winning and delivering on contracts is key to growing a business. The path to doing so is challenging, but armed with support and information, it is very possible.
It is vital that businesses understand what is required of them in order to bid for and secure contracts of all kinds, whether public or private, large or small.
That's why we have pulled together advice and information for businesses looking to bid for and win contracts.
Supply chain opportunities on large infrastructure projects
Buckinghamshire's businesses are well-placed to capitalise on major infrastructure projects in the region, such as HS2 and East West Rail.
There are certain requirements on businesses that want to bid for contracts on these projects. There is often pre-qualification criteria to meet, and sometimes a fee involved for registering with online portals where contracts are advertised.
We have spoken with those companies involved in delivering HS2 and East West Rail for information for businesses wanting to bid for contracts on the projects. You can read them in detail here:
Not just large infrastructure projects
It is not just large infrastructure projects that businesses can get involved with though. There are so many contract opportunities available if you know where to look.
Buckinghamshire County Council has provided information on how businesses can apply for contracts with them, while you can also read information on available public sector contracts in the UK and EU, and what Brexit means for EU public sector contracts.
Support to write the perfect bid
How do businesses go about the bid writing process? We have sourced advice from three Buckinghamshire Business First members with great experience in winning contracts and helping other businesses win contracts.
This, and the other articles linked to in this article, provide plenty of advice and support on getting ready to bid for contracts and on putting together a great bid.
'Focus on Procurement' event next month
Buckinghamshire Business First is running a 'Focus on Procurement' event to help you understand the opportunities available to businesses in the county. The event will feature representatives from Eiffage Kier, East West Rail Alliance, HS2 Ltd, Align, and Buckinghamshire County Council. The event takes place on November 21st. Find out more and book your place at this event.
Dive into all the available contracts
If you want to see a whole host of available public and private sector contracts, remember to regularly check the contracts section of our website. You will find public sector contracts as well as live contracts posted by our members. You'll currently find one of our contracts up there too!
Any member of Buckinghamshire Business First can advertise contracts on this portal, so do look into this great opportunity to get your available contracts promoted.
Further support for your business
Procurement is time-consuming and there's a lot to get your head around, so you'll need support along the way. Buckinghamshire Business First, our 11,000-strong membership, and our partners are on hand with support and advice on all things procurement. Some of your fellow members could help you with aspects of procurement such as bid writing or compliance with health and safety requirements, for example.
Any consultancy or investment in systems required to get you 'contract ready' could benefit from a £1,000 Growth Grant. Find out more here.
Speak to our team
Email BusinessSupport@bbf.uk.com or call 01494 927130 for more information and support.