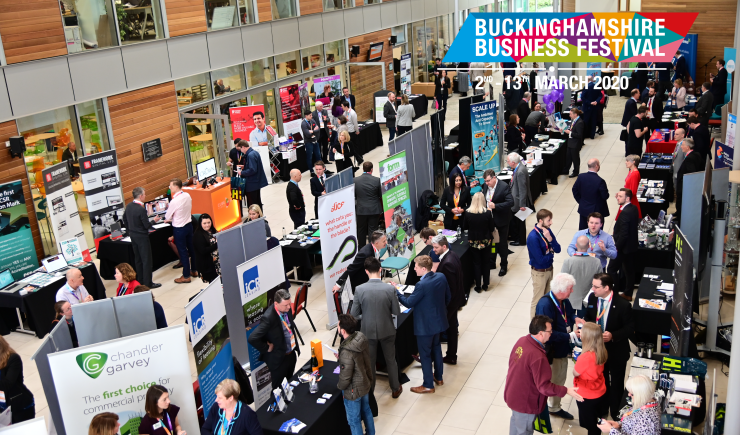 The Expo is the mother of all networking events; your best chance all year to network with as many businesses as possible under one roof.
And that's not all: you can also learn about the workplace of the future, how to reduce energy and how to win a Buckinghamshire Business Award!
The Buckinghamshire Business Expo offers many learning and networking opportunities for visitors and exhibitors.
The Expo runs from 10am-4pm and will be full of eager businesses ready to showcase their products and services to a room-full of visitors. This is a great opportunity to learn all about a number of local businesses and how they can help you, either through new business relationships or providing their services to you the customer.
Book your exhibition stand or visitor ticket.
Need convincing? Read our 6 reasons why you should be at the Buckinghamshire Business Expo!
Exhibitors and visitors alike can benefit from the Expo by:
Reaching their target audience
Generating quality leads
Gaining local exposure
Making a lasting impression
Connecting with decision makers
Book a ticket as a visitor
A ticket to attend the Expo is free. Book a delegate ticket below!
Visitors will get the chance to meet with lots of businesses, some they may have heard of before and some they will discover for the first time.
Free entry makes this a no-brainer, considering the benefits of meeting so many businesses under one roof!
Book an exhibition space
Please note - exhibition space is now very limited with only a very few spaces left.
Exhibiting at the business expo is an invaluable opportunity for you to network, showcase your products and services and make useful contacts.
To secure an exhibition stand costs £200 plus vat. Exclusive offers are available to our invested members:
75% discount for Ambassador Members
50% discount for Partner Members
25% discount for Stakeholder Members
Exhibitor packages include:
One table – approx. 4ft x 2ft (table cloth included if requested)
Space for one pull up banner 2m x 85cm (check our member offers if you are looking to purchase one for the Expo)
Lunch and refreshments for 2 representatives at your stand (further refreshments may be purchased at the café on the day)
Power is available at all stands
Find out more about upgrading your membership package here >
View the exhibition floor plan and choose your stand here >
Exhibitor places are limited.
"By 9:30 am I was agreeing new business"
Elizabeth Adlington exhibited at last year's Expo with her business, Adlington Young Executive Coaching, and said: "The Expo kicked off soon after 8 am and by 9:30 am I was agreeing new business. The venue worked perfectly and conversation buzzed all day. It felt more like a reunion than an Expo, and definitely worthwhile!
"What a good day it turned out to be. Everything was well planned by Buckinghamshire Business First, which filled me with confidence that it would be a day well spent."
Be the first to learn about the 2020 Buckinghamshire Business Awards
We will be launching the 2020 Buckinghamshire Business Awards at the Expo, giving those in attendance the inside track on the new categories being added for 2020.
Reduce your energy consumption in our #NetZeroBucks Zone
#NetZeroBucks is a campaign that we have launched at Buckinghamshire Business First to create a net-zero Buckinghamshire economy.
Our #NetZeroBucks Zone at the Expo is sponsored by Aylesbury Vale District Council and will be packed full of businesses that can provide products and services to help local businesses reduce their carbon emissions in areas such as waste, lighting, heating, packaging, transport and more.
The Business Support Zone
It's not just loads of businesses gathering in one place at the Expo, loads of business support organisations and helpful services will be stationed in the Business Support Zone too. So after you've struck up plenty of new relationships with businesses, and start to wonder how you will manage to make the most of them all, visit the very organisations who can offer you advice, funding, services and more.
Kick off the day by learning about 'The Workplace of the Future'
You can start networking even before the Expo officially opens while learning all about the workplace of the future at Buckinghamshire Local Enterprise Partnership's AGM.
---
Details
Date:
6 March, 2020 - 6 March, 2020
Time:
10:00am - 4:00pm
Registration, refreshments & exhibition from 10.00am
Location:
The Gateway, Gatehouse Road, Aylesbury, HP19 8FF
Please note:
Free parking is available at the venue, but is limited, so where possible we would recommend sharing a lift.
Part of the Buckinghamshire Business Festival
This event is part of the Buckinghamshire Business Festival. The festival is a celebration of business in the Entrepreneurial Heart of Britain and runs from March 2nd-13th. Read more about the festival here, and check out the ever-expanding festival events schedule here.
Use #BucksBizExpo and #BucksBizFest on social media in the build-up and when you're at this event to promote your involvement.
Remember to take photos too and share them with us! Tag us on Twitter, Facebook, LinkedIn and on Instagram.
Waiting List:
Waiting List
---